Marketing Automation
Marketing Automation in Tampa, Clearwater, St. Petersburg, Largo, Dunedin and Throughout Tampa Bay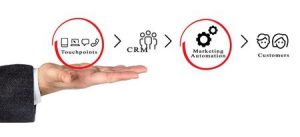 Marketing automation is an essential digital marketing strategy in this day and age. Potential leads are exposed to several marketing messages every hour. Messages can easily blend in with one another if they sound similar and/or do not capture the lead's interest. Personalized messages are a requirement to be noticed by potential leads and increase lead conversion.
Although lead conversion is essential, creating personalized content for every potential lead is time consuming and difficult. That's where marketing automation comes in. Marketing automation platforms allow each member of your business to streamline communication with leads. Rather than writing the same email time and time again, automation platforms typically have features that allow users to create highly personalized emails that can be tailored to every potential lead.
Automation has been proven to increase lead conversion through lead scoring, segmentation and lead nurturing. The benefits of utilizing automation include:
Cross Sell & Up Sell Easily
Increased Customer Retention
Measurable Digital Marketing ROI
And More!
At S3 Media, the automation platform we utilize is SharpSpring. We are the only digital marketing and advertising agency in the entire state of Florida that is Gold Certified by SharpSpring. We can utilize lead nurturing, automation lists, tasks and action groups, email tracking, sales pipeline and CRM to help you increase your lead conversion, which will, in turn, increase your overall bottom line.
As a highly rated marketing agency, we hope to become your top choice for marketing automation and other digital advertising services. We will work tirelessly to help you exceed your competitors and reach a broader audience. Increasing your lead conversations is our #1 priority, so if you are a business owner in Tampa, Clearwater, St. Petersburg, Largo, Dunedin or elsewhere throughout the Tampa Bay region and want to increase your net income, please do not hesitate to contact one of our specialists today. We look forward to becoming your preferred marketing agency!