What is SEO?
What is SEO for Companies in Tampa, Brandon, Carrollwood & Westchase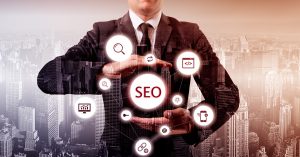 With different varieties of digital marketing strategies available to companies today, you may be wondering, what is SEO? SEO is a form of internet marketing that utilizes strategic tactics to increase your website's presence on search engine results pages (SERP). SEO, or search engine optimization, is comprised of several different strategies with alike goals.
Our talented and experienced team of writers, designers and marketers here at S3 Media can develop an internet marketing plan for you, implementing SEO techniques including web design efforts as needed. Experts at increasing your rankings through a combination of organic SEO and pay per click advertising (PPC) methods, we deliver top results that will increase your brand awareness and help your company generate more leads.
So, what is SEO? SEO is a method of web design and development that utilizes content relevant to current user searches on the various search engines. Through strategic linking structures and large amounts of relevant content, S3 Media's SEO team will organically boost your rankings and, in turn, your online presence.
We are able to increase your website's reach by using:
Brand analysis
Keyword planning and placement strategies
Professional writers to develop relevant content
Keyword linking structures
Most internet users do not click past the first page of search results. This fact alone urges you to use SEO techniques for your website. Establishing online visibility is imperative in today's society and aiming for a number one rank will provide you with more clicks and views. Ranking higher organically will gain you trust with your consumers, create more leads and convert more sales. Ranking higher gives you the opportunity to connect and engage with consumers, especially if used in tandem with other internet marketing strategies such as social media marketing.
Contact S3 Media today to set up a free marketing analysis for your company's website, and you'll never have to ask what is SEO again. One of our professionals will develop a distinct marketing plan specific to your company's needs, ensuring you understand what each aspect entails. We are proud to serve companies located in Tampa, Brandon, Carrollwood, Westchase and neighboring areas.